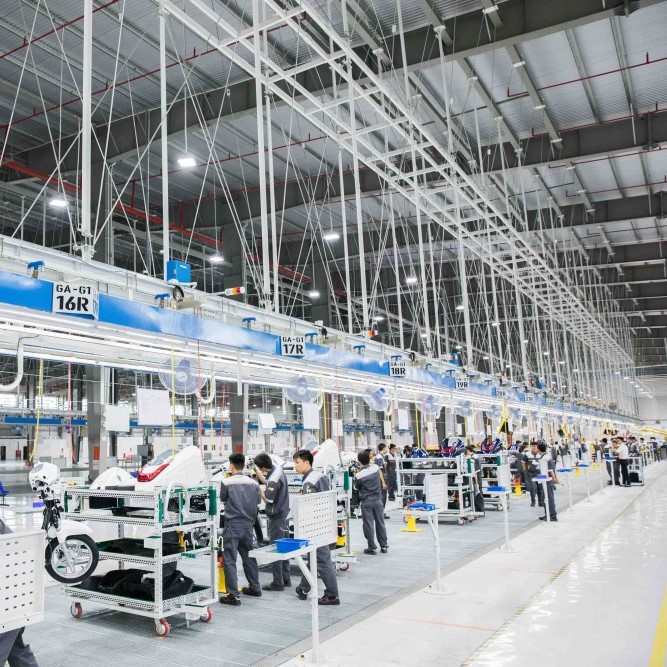 Maintenance of the factory system
Service and maintenance of the factory system
For factories with a large number of machines and equipment, high value. After a period of use, it will be damaged, so the cost of repairing and replacing equipment is very large. Besides, the replacement and repair will take time, disrupting the production process, causing significant losses. Realizing the huge demand and role of factory maintenance, Dona Industry provides a full package of factory maintenance services. Find out more about this service through the article below.
What is Factory Maintenance?
The demand for production of goods is increasing, leading to the need to build factories to store goods, equipment and machinery for production. However, after a long time of operating production, storing goods, it is difficult for the factory to avoid the impact of the environment and will be degraded. With the desire to improve productivity and longevity of equipment, periodic maintenance of machinery and equipment in the factory is very necessary.
What does factory maintenance include?
– Maintenance and maintenance of electromechanical equipment on a weekly basis such as fans, pumps, motors or motors, etc.
– Maintenance of wastewater and rainwater drainage systems every 3 to 6 months, including: downspouts, gutters, manholes, gutters, collection hoppers, etc.
– Check electrical systems or electrical leakage periodically from 3 to 6 months including: phase difference, electrical cabinets, alarm cabinets, impedances, etc.
– General inspection of the work periodically about once every 12 months with activities such as: floor penetration, wall cracking, wall, column, momentum, foundation settlement column, layer structure deflection, electrical connection, ..
Periodic factory maintenance
– To ensure the smooth operation of the factory, maintenance should be carried out regularly.
– Limit the occurrence of damage problems, quickly handle arising quality problems.
– Do not cause the problem of degradation to spread, affecting the operation of the workshop.
The benefits in the maintenance of machinery and equipment
– Improve the life of machinery and equipment in production activities.
– Minimize loss of process time due to machine failure in the line.
– Reduce machine repair and maintenance costs.
– Increased reliability of machinery and equipment.
– Improve production efficiency in the enterprise.
Factory maintenance
– Step 01: Receive required information from the business (Company name, position, preliminary requirements).
– Step 02: Survey and evaluate the current state of the equipment (Machine brand, working life, working environment conditions).
– Step 03: Detailed planning of maintenance items by week, month, year for each item of machine details based on surveying factors.
– Step 04: Make a maintenance contract between the unit and the enterprise in detail based on the factors of labor and replacement materials.
– Step 05: Implement human resource training suitable for each content that needs to be maintained for the business (certificate, training certificate, insurance).
– Step 06: Implement and arrange human resources according to the required factory and workshop maintenance plan.
– Step 07: Prepare maintenance records for each business unit.
Workshop repair time
Workshop repair time is not fixed, depends on the extent of damage and the area of ​​the workshop. Can range from 2 weeks to 8 weeks.
Please contact us via the information at the end of the article. Engineers will directly advise you the most appropriate solution.
Why should you choose our services?
– High reliability
With a technical team with extensive experience in plant maintenance services, having taken on many large projects. We are committed to providing our customers with the fastest, most professional maintenance service.
– Cost savings
Always putting the interests of customers first, we are ready to offer the most optimal and economical, most reasonable and competitive costs, bringing trust and satisfaction to customers.
– Save time
When the factory has a problem, our team of engineers and workers will quickly contact customers, survey the items that need repair, quick construction, quick response, on schedule when urgently needed. . With the advantages of available tools and components, we are ready to respond to requests, repair, replace and support in the fastest way.
–  24/7 support
We support customers with all hours of the day, free online and online consultation to quickly respond to customers when the factory has problems.